ANKO SR-24 Spring Roll Production Line
Spring roll Production Line designed by ANKO is fully automatic to produce 2,400 spring rolls in one hour.
After pouring well-stirred batter and stuffing, the automatic process starts from baking drum, cooling fans, cutter with sensor to innovative depositing, folding and wrapping devices.
It is the ideal solution for making identical quality and tasty spring roll that can compete with handmade spring roll.
Advantage
The wrapping device is designed according to the manual wrapping process to roll up every spring roll firmly.
After frying, the spring roll is crispy but not oily.
New special depositor can smoothly deposit different fillings such as:
Pure vegetable filling—Our new depositing design can process up to 20X20mm cooked leaf vegetables and 5-8mm cube cooked root vegetables to keep the best taste and texture of filling.  Also, the depositor is equipped with a unique filter which can extract excessive liquid from filling and dispense with the need for extra dehydration process.
Mixed vegetable and meat filling the max. size of diced meat can be up to 10mm cube. The proper ratio of meat to vegetable is 1 to 2.
Pure meat filling—diced meat can be up to 10mm cube, the popular stir fried loose beef filling in Gulf countries can be deposited and wrapped hassle free.
Mixed bean sprout, meat, and vegetable filling. The proper ratio of bean sprout and vegetable to beef is 2 to 1. This type of filling is especially popular in Holland.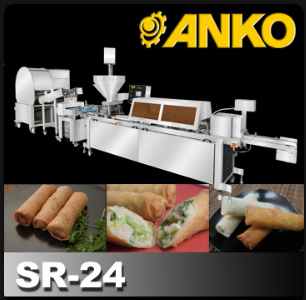 Specifications
Size:7,500 (L) x 1,300 (W) x 2,200 (H) mm
Electricity:220/380/415/440 V, 50/60 Hz, 3 Phase, 38 kw
Max. Capacity:2,400 pcs/hr
Weight of Product:40 – 50 g (*The weight is different depending on the ingredient of filling)
Size of Product:Length 100 mm, Diameter 25 – 30 mm