Filling machines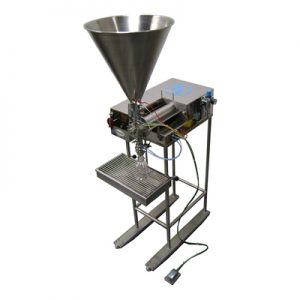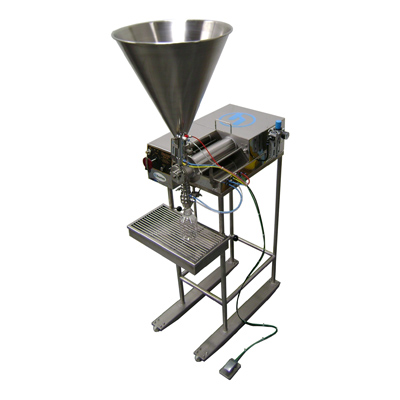 Hunter Filling Systems liquid filling machines are designed for accurate dispensing of liquids, pastes, creams and other viscous products. These include single and multiple head depositors, capable of accurately metering volumes ranging from 1ml to 1000L (+/-0.5%). They can be setup to run as a semi-automatic operation or in a fully automatic system, with automated container handling.
The Hunter range of liquid fillers can be used as tabletop machines to fill small containers to heavy-duty bulk filling into jerry cans or drums and come with a wide range of nozzles to suit specific production requirements.
Simple to operate, easy to clean and uncomplicated to maintain, Hunter fillers provide a fast, accurate solution for your filling requirements. The Hunter range of fillers have a reputation for quality and longevity in a competitive market place. All machinery components are manufactured to a very high standard, with strict hygiene principles applied to the product contact areas, where stainless steel Type 316 or specialty plastics are selected.
Typical products currently being packed by Hunter Fillers Worldwide include:
Foodstuffs & Dairy: Butter, margarine, processed cheese, yoghurt, yeast extracts, pate, dips, jams, stews, bread dough, sauces, mayonnaise, salad dressings, peanut butter, honey, chutneys, cooking oils, fruit juices, pickles, cordials, toppings and flavourings.
Cosmetics, Pharmaceutical & Veterinary: Lotions, shampoos, conditioners, nail varnishes, lip balms and various creams.
Chemical, Automotive, Adhesives & Paint: Detergents, disinfectants, bleaches, motor oils, printing inks, epoxy resins, paints, adhesives, caulking compounds, essential oils, weed killers, herbicides, pesticides and agricultural chemicals.
→ View our range of Hunter filling machines
Strapping machines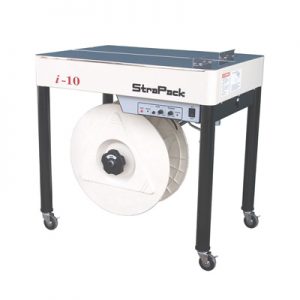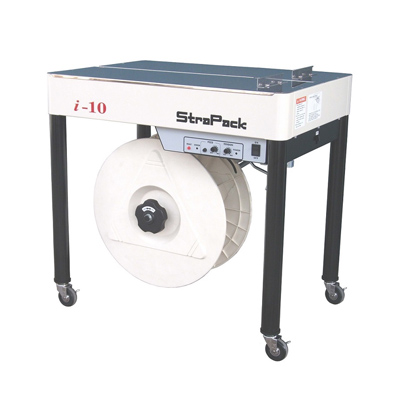 StraPack is the world's largest independent manufacturer of strapping machines!
Headquartered in Tokyo, StraPack guarantees Japanese quality. Our manufacturing division in Japan has earned an ISO9001 and ISO14001 rating.
StraPack is the only company in the strapping industry distributing only equipment that has been developed and produced by its own manufacturing divisions. StraPack has built its reputation for quality products by having total control of the manufacturing process. StraPack customers benefit from prompt and easy access to technical information, spare parts and custom development.
Our emphasis on quality and innovation has made StraPack the leader in the industry.
→ View our range of StraPack strapping machines
Food processing machines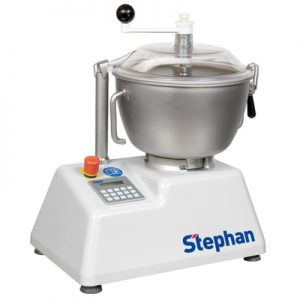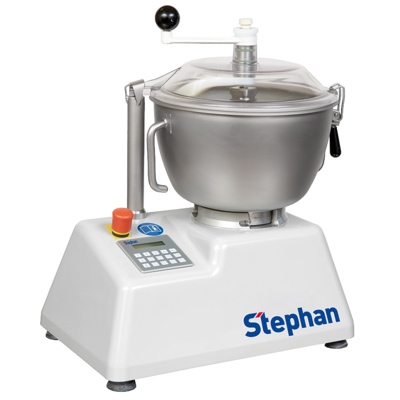 Founded in 1953 in Hameln (near Hanover, Germany) by the Stephan family, the company started its activity by manufacturing meat cutting equipment and machines for the preparation of bakery and other food products.
In recent years, STEPHAN Machinery has become the market leader in processed cheese technology for the production of all kinds of processed cheese, such as; spreads blocks and slices. Also, in the field of machinery for processing convenience food products, STEPHAN has attained a remarkable position. The most important applications in this field are ready meals, soups, pasta, mayonnaise/ketchup and baby food.  We are also still involved in process solutions for products such as meat/skin emulsions, liver pate, pet food etc.
By means of our highly efficient Microcut machines, homogenous fine cutting and emulsifying of meat can be achieved. Last, but by no means least, STEPHAN is also well-known for its excellent confectionery process technology – being a recognised leader in the supply of machines for marzipan, praline masses. etc.
In 2003 we created our own Centre of excellence for engineering and automation in Schwarzenbek/Hamburg. The concept was to have an organization that offers solutions ranging from individual engineered process units through to complete plants equipped with the latest automation technology.
→ View our range of Stephan food processing machines
Ethnic food machines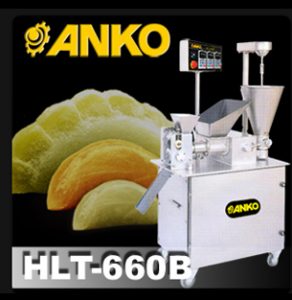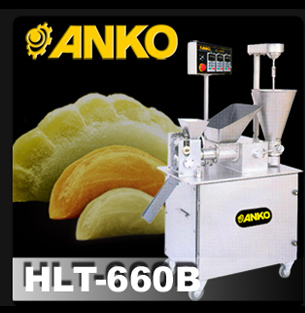 Established in 1978 with the macrobiotic diet trend, Anko Food Machine Co, Ltd. began from manufacturing electric free automatic seed sprouters for families and restaurants. Standing out for compact design, easy operation, and reasonable price, the sprouters had good sales and reputation around the world.
In 1985, Robert OuYoung, Chairman of ANKO, received customer request of making fully automatic spring roll machine. He sensed the business potential and believed  Chinese dim sum would become popular thoughout the world, since then he started to lead ANKO to transform into professional Chinese dim sum machine developer and manufacturer.  After 2 years in depth field survey and evaluation throughout worldwide professional food and its machine related exhibitions, foods from supermarkets, and food manufacturers, he further confirmed the great potential demand for food machines to adapt fast changing food trends.  Since 1987 ANKO have devoted to develop series of Chinese dim sum machines for dumplings, shumai, spring roll, pot sticker, mini juicy bun, green onion cake, glutinous rice ball, baozi, Chinese bun…etc., till now, you can find almost every machine solution for Chinese dim sum from us.
In 1992, Robert set ANKO's vision to become the most professional ethnic food machine manufacturer in the world.  ANKO thus enhanced RD team to design food equipments for East Europe, North and South America, South-East Asia, Middle East, Africa, etc. To expand production capacity, Robert set 2 sole proprietorship companies, Ningbo ANKO and Ningbo HOMELIFE, at Ningbo, Zhejiang, China, to fabricate parts and basic assembly.
View and download the ANKO catalogue.