ANKO HLT-660B
Multipurpose Filling & Forming Machine has been approved by many clients.
Just change the forming mold, HLT-660B can produce various foods such as dumpling, fry dumpling, samosa, hargao, ravioli, etc.
With HLT-660B, any food maker can transform business to automatic production with no trouble. The Multipurpose Filling & Forming Machine is helpful to increase productivity, uniform food specification as well as decrease labour cost and ingredient waste.
Features
Multiple usage — By changing forming molds, it can make dumplings, gugia, pastel, egg rolls, samosa, noodles, pierogi, empanada and ravioli etc.
Multiple applications — Products can be cooked, steamed, baked or fried.Suitable for frozen or microwave oven foods.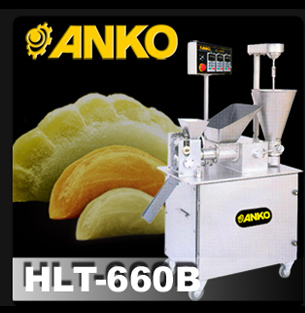 Specifications
Size: 1,050 (L) x 500 (W) x 1,510 (H) mm
Electricity: 220/380 V, 50/60 Hz, Single/3 Phase, 2 HP
Net Weight: 300 kgs