ANKO HLT-700
Multipurpose Filling & Forming Machine has been approved by many clients.
Just change the forming mold, HLT-700 can produce various foods such as dumpling, fry dumpling, samosa, hargao, ravioli, etc.
With HLT-700, any food maker can transform business to automatic production with no trouble. The Multipurpose Filling & Forming Machine is helpful to increase productivity, uniform food specification as well as decrease labour cost and ingredient waste.
Features
Wide Range of Dough Compositions — the wide range of dough composition allows different dough textures. Water content in dough can varies from 30% to 50%, and could be cold, warm or hot to make the wrappers tender. After boilling or steaming, wrapper will be softer.
Unique Water Cooling System — HLT-700 is equipped a water cooling system to prevent degradation of dough quality from heat generated by dough compressing.
Diced potato, meat & apple can be filled — it can fill the traditional hand made samosa and apple pie filling.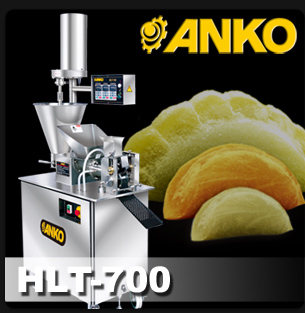 Specifications
Size:1100 (L) x 650 (W) x 2100 (H) mm
Electricity: 220/380/415 V, 50/60 Hz, Single/3 Phase, 2.3 kw
Stuffing Hopper Capacity:20 L
Weight of Product:2 – 160 g
Net Weight:320 kgs